About SERVPRO of Bartlesville / Miami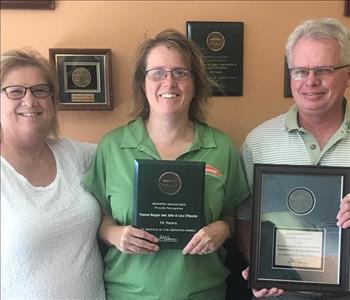 Yvonne Burger, John & Lisa O'Rourke
Owners of SERVPRO of Bartlesville / Miami
Our History
SERVPRO of Bartlesville/Miami has been helping the people of Northeast Oklahoma for over 15 years. In 2004, John and Lisa O'Rourke and Steve and Yvonne Burger started SERVPO of Bartlesviile/Miami to help the people of Bartlesville, OK and neighboring communities. Steve Burger passed away July 2008 but John, Lisa and Yvonne continue to run the business to serve our community. Over those years SERVPRO of Bartlesville/Miami has helped thousands of homeowners restore their property after a water or fire damage.
Committed to the Community
John and Lisa O'Rourke have raised their family in the Bartlesville area. We are invested in helping this community thrive and serving our customer's needs. SERVPRO of Bartlesville/Miami has donated to local schools, fire departments and supported the Relay for Life.
Our Trained Employees
Our technicians draws on decades of experience in property restoration. Our technicians receive initial training through SERVPRO and obtain IICRC industry certifications. Be assured that our technicians have the knowledge and training to restore their property.
Why SERVPRO?
SERVPRO of Bartlesville/Miami specializes in the cleanup and restoration of residential and commercial properties after a fire, smoke or water damage. SERVPRO of Bartlesville/Miami can also mitigate mold from your home or business. With a nationwide system of qualified franchises, no damage is too large or too small for SERVPRO of Bartlesville/Miami. SERVPRO of Bartlesville/ Miami is no stranger to natural disasters - flooding, freezing, tornadoes, hail storms and now earthquakes. If you are a business owner, we work with you to develop an Emergency Ready Profile to help prepare your business and employees for some of the disasters that can happen in our area.
If you would like to schedule service for your home or business, please call (918) 766-0220 today! Follow us on Facebook at https://www.facebook.com/SERVPRO-Of-BartlesvilleMiami-231888690544231/home
Insurance and Payment Information
For a stress free claims process, SERVPRO works with your insurance to help manage the insurance process and paperwork.
We also accept the following credit cards for your convenience:


Certifications
AMRT - Applied Microbial Remediation Technician
ASD - Applied Structural Drying Technician
ECTP - Employee Certification Training Program
FSRT - Fire & Smoke Damage Restoration Technician
HST - Health and safety Technician
IICRC Certified Firm
RRRP - Lead-Based Paint Activities and Renovation
RRT - Carpet Repair & Reinstallation Technician
WRT - Water Damage Restoration Technician
Affiliations
Bartlesville Area Chamber of Commerce
Better Business Bureau
Institute of Inspection, Cleaning and Restoration Certification
Miami Area Chamber of Commerce
Nowata Area Chamber of Commerce
Vinita Area Chamber of Commerce
Awards
President's Bronze Award
President's Bronze Award
President's Bronze
15 Year Service Award
President's Silver